Description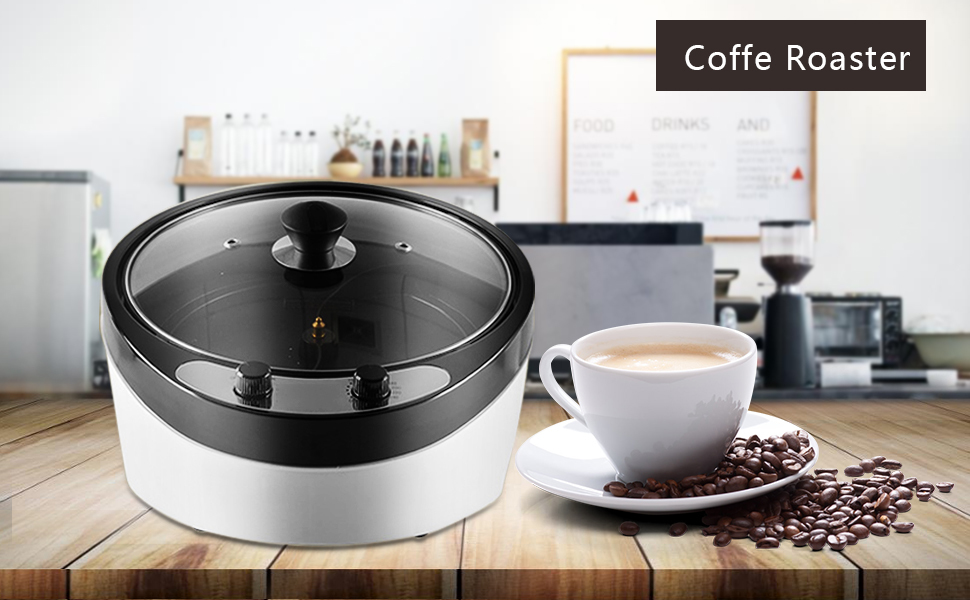 Why do we want to roast coffee ourselves?
Only when the coffee beans are cooked, can we smell the rich flavor.
This machine not only allows you to enjoy fresh coffee, but also to taste your own coffee flavor according to your personal preferences.
Eleheathy Coffee Bean Roaster with the 45-degree angled design makes the baking more uniform and delicious. Multifunctional coffee roaster, small popcorn machine for household use, raw beans, dried beans, peanut baking machine, transparent heat shield-you can see the baking process, the top four layers maintain the ventilation system, so that the aroma fills your cafe.
Large-capacity 500-800g baking machine with inclined plane: the inclined plane design is easy to roll and stir more evenly.
The 45-degree angled design allows for more uniform roasting: the large-capacity design of the inclined plane makes the coffee beans and grains easier to roll to achieve a uniform effect.
S-shaped paddle stirring rod: The ascending and descending stirring rod has the advantage of a large stirring area, which can roll the object more uniformly, so as to achieve your ideal baking effect.
The glue stick can be removed separately, which is easy to wipe, and the Chinese medicinal materials can be baked after removing the stirring rod.
Multi-function coffee roaster, grains other than coffee is still a strength: household grains, peanuts, sesame can all roast the effect you want.
Product Name: Coffee Roaster
Body shape: inclination / white
Case material: high temperature resistant PP material
Jaw quantity: 300-400g
Inner wall diameter: 28 cm
Temperature: 0-240 ℃
Rated power: 1800W
Voltage: 110 V - 220 V
Package weight: 4.33 kg
Product size: 33 x 26.5 cm
1 x coffee roaster
1 x User manual